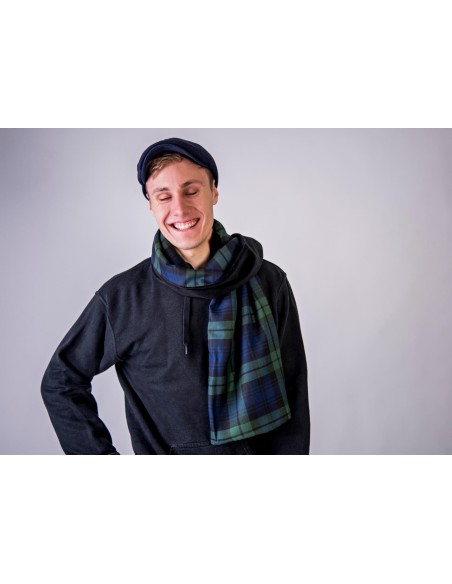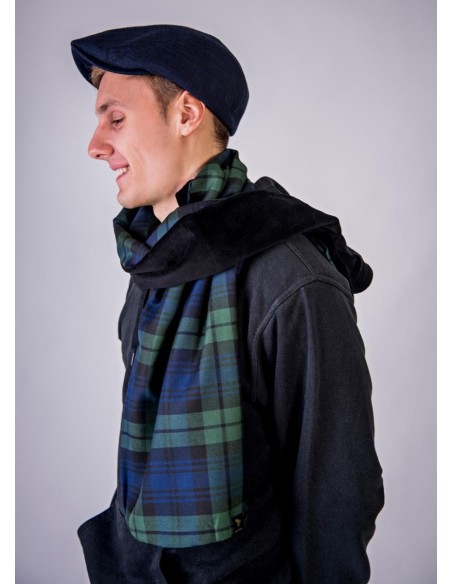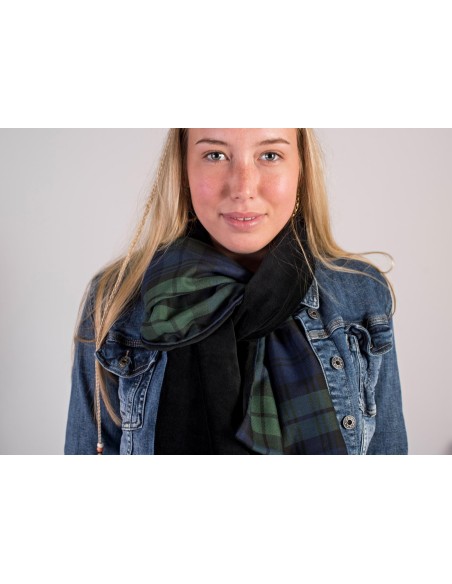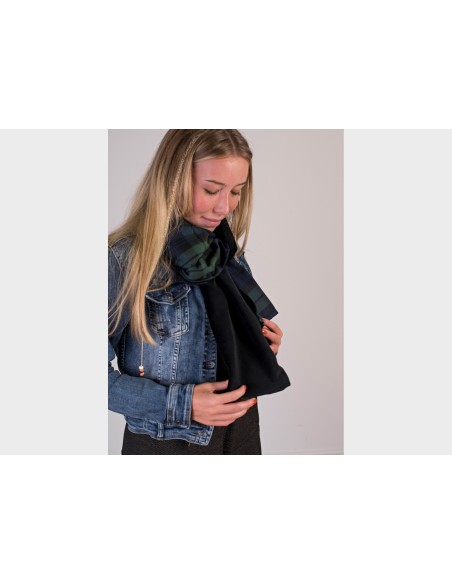 Shielding scarf Kerry
Tax included
Délai de livraison pour cet article 5 à 8 jours
HF (High frequency)

The scarf is an accessory that completely changes your appearance, so it is important to make the right choice.
For the autumn-winter season 2020/2021, the check print can be seen in the new collections. All current trend pieces are decorated with a check print. Whether it is tartan check, small or large, multicoloured or discreet, the star print determines the fashionable must-haves.
Just like stripes, dots or leopard patterns, the check print is a timeless fashion element!

We present our new model Kerry, a double-sided scarf made of tartan with navy blue and green checks on one side.
The tartan pattern consists of dyed yarns and is woven horizontally and vertically at regular intervals.
The other side is made of very soft black nicky. The scarf is also lined with a shielding fabric so that it blocks high frequencies.
The dimensions of the scarf are about 145 cm long and 35 cm wide.
 
100% secure payments
VAT
VAT applied 20%, exempt for deliveries outside the EEC.
|   | Frequency / Application (MHz) | Decibel (dB) | Percent (%) |
| --- | --- | --- | --- |
| Tetra 450 | 450MHz | 30dB | 99,9% |
| LTE 800 | 800MHz | 40dB | 99,99% |
| GSM 900 | 900MHz | 40dB | 99,99% |
| GSM 1800 | 1800MHz | 30dB | 99,9% |
| DECT 1800 | 1800MHz | 30dB | 99,9% |
| UMTS 2000 | 2000MHz | 30dB | 99,9% |
| WLAN 2400 | 2400MHz | 20dB | 99% |
| LTE 2600 | 2600MHz | 20dB | 99% |
| WLAN 5800 | 5800MHz | 20dB | 99% |
Material:
Tartan: 35% Viscose, 65% Polyester
Nicky: 80% cotton, 20% polyester
Shielded fabric: Polyester 90%, metal 10%.

Care instructions
Washing temperature: 30°C (delicates)
Ironing temperature: Level 1 - Gentle ironing
Dryer: Do not dry in a dryer
Bleaching: Bleaching not allowed - No detergents with bleach.
Cleaning: No dry cleaning