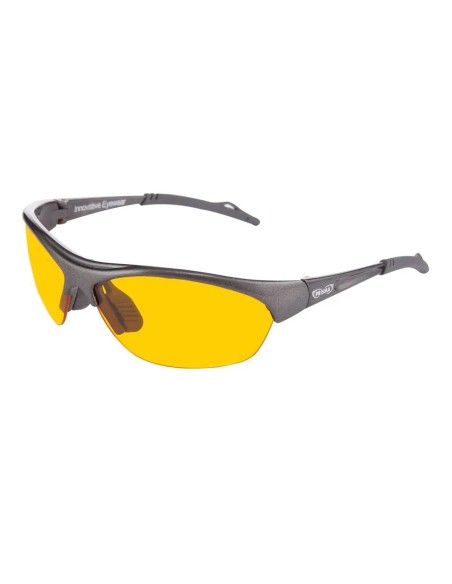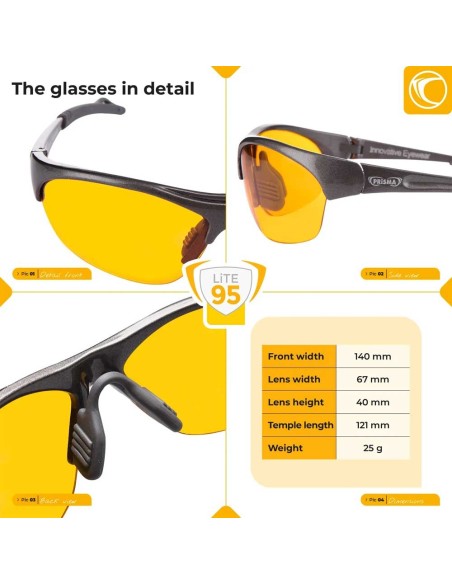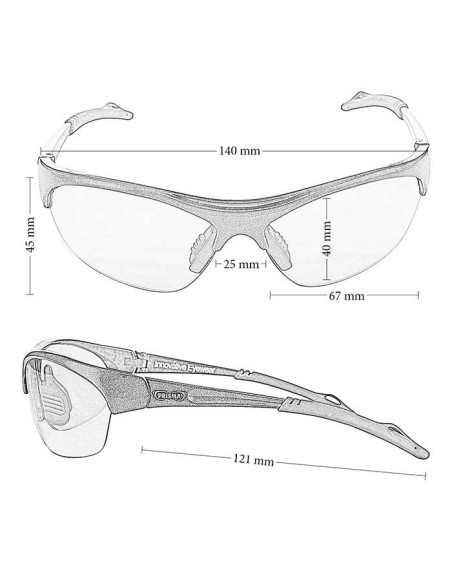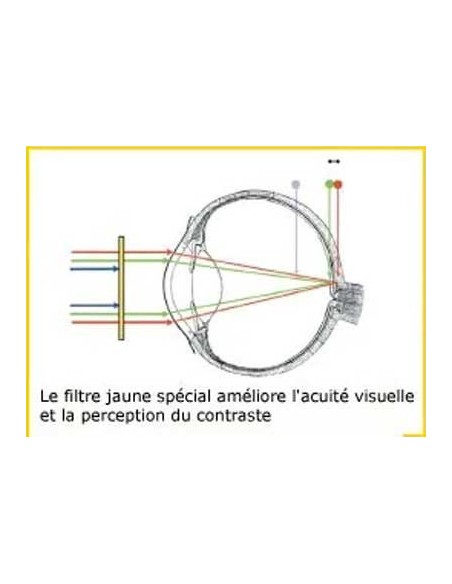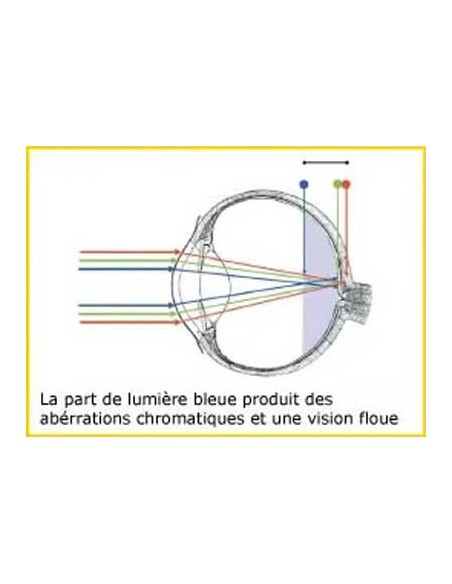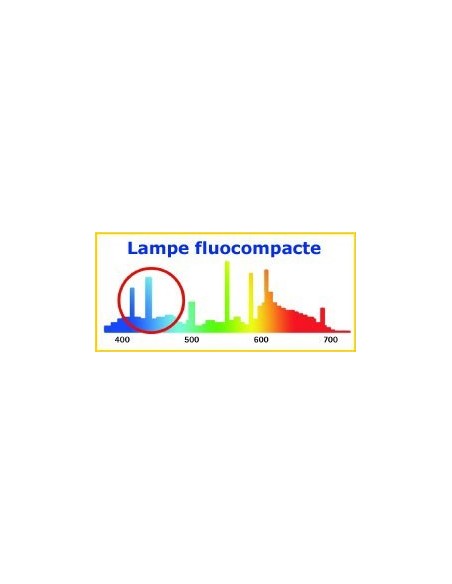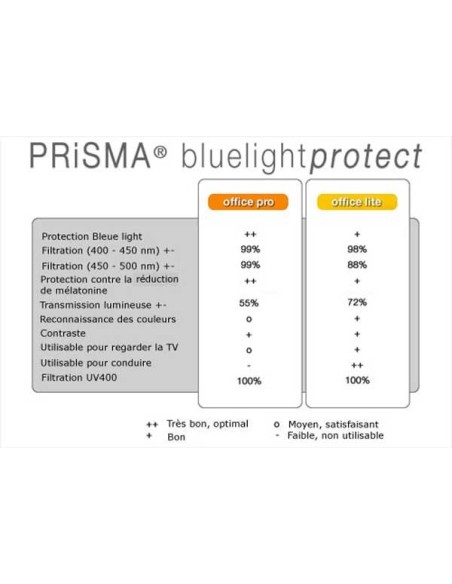 PRiSMA® - CLASSIC LiTE95 anti blue light glasses - E704
Estimated delivery times 5 to 8 working days
Tax included
Délai de livraison pour cet article 5 à 8 jours
Glasses with frame for the protection of the eyes against artificial blue light (macular degeneration (AMD) and retinal) produced by flat screens (TV, PC..), compact fluorescent lamps and LEDs is essential.
100% secure payments
VAT
VAT applied 20%, exempt for deliveries outside the EEC.
Time to protect your eyes!
Computer screens aren't as harmless as people think. The flickers of frequencies that are barely perceptible to the naked eye and the large amount of optical and electromagnetic radiation obstruct our vision and are most likely detrimental to our eyes. Especially TFT flat screens with mercury frequencies or LEDs radiate with a high proportion of blue light. This abnormal proportion of blue light not only causes more difficult vision, but also causes a damaging effect on the metabolic processes observed in scientific experiments on cells of the eye.
GLASSES: LiTE95. High blue light protection of 95% up to 500nm thanks to fully anti-reflective BluelightProtect LiTE95 amber filter with better color fidelity and 75% light transmission - scientifically developed in Germany.
USE: ideal for prolonged screen time during the day, when the body is less sensitive to blue light, as well as for reduced exposure to blue light and with less predisposed eyes. Also in the evening with good color fidelity in front of the television.
BENEFITS: Over the course of a day, you can easily accumulate many hours of screen time. In total, the exposure to blue light is enormous, even for healthy eyes. The BluelightProtect LiTE95 filter allows you to concentrate on screen work without getting tired and easy on your eyes, while increasing contrast and visual acuity. Also ideal for children.
FRAME: CLASSiC. Multifunctional, lightweight and unbreakable sports frame made of bisphenol-free Swiss Grilamid TR90 UV with hard-coated domed lenses that surround the field of vision well and protect against drafts and scattered light. Thanks to the BluelightProtect and UV400 filter, perfect protection against the sun's rays and harmful blue light for the eyes. The amber tint and full anti-reflective coating enhance contrast and improve vision.
DESIGN: The harmoniously matched frame and temples in anthracite metallic in combination with the amber lenses make the PRiSMA Classic a fashion and sport accessory beyond sport. Soft rubber nose pads and soft temple tips ensure a secure, light and comfortable fit at rest and in action.
Protect yourself from light radiation from TFT and LED flat screens with PRiSMA bluelightprotect screen glasses.
Modern flat screens (PCs and TVs) emit light with a high blue content, with a high proportion of short-wave (blue) spectral components. This light places a heavy burden on the eyes and can damage them irreversibly. Light with a high blue content also has a negative influence on the hormonal balance (eg melatonin), which can lead to sleep disturbances, for example. For the body, this means constant stress.
Many people complain of troubles such as red, burning and watery eyes during prolonged screen work. Normal screen glasses with clear tinted lenses do not remedy this situation.
PRiSMA screen filter lenses with their special filter coatings protect your eyes by safely filtering out the high proportion of blue in the light.
LiTE95 filter glasses are slightly clearer than the PRO99 variant. Good color recognition. Also suitable for watching TV.
A worker can easily be exposed for 4000 hours or more to light radiation and mercury in just one year. Therefore, it is essential to protect your eyes with PRISMA® computer protection glasses! Added to this are all the energy-saving lamps or desk lamps that produce the same problems.
The "Classic Office lite95" model provides slightly lower blue filtration but better color recognition and makes it possible to drive in a car.
The lenses are treated with an anti-reflective coating, to minimize unpleasant reflections, economical fluorescent.
Yellow PRiSMA® "Classic office lite" computer glasses with gray-blue pearl frame and "office lite" lenses with anti-reflective coating, microfiber pouch and microfiber cleaning cloth.</ p>
The filtering of blue light is lighter with the "Office lite" glasses but on the other hand, it can be worn in environments where there is less light. nosity. It is a good alternative as office protection for people.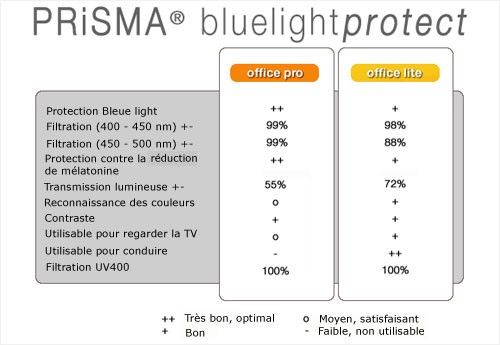 Why "bluelightprotect" blue protection?
Blue light protection LiTE approx. 95% (up to 500nm)
Glare reduction
Contrast boost
Mercury light present in TFT and LED screens
The spectrum of natural light compared to compact fluorescent lamps
Eye relief
Hormone balance disorder
No chance for eye regeneration!
Adjusting screen brightness does not offer any protections.
Fatigue-free vision
Case-resistant and lightweight
100% UV400 protection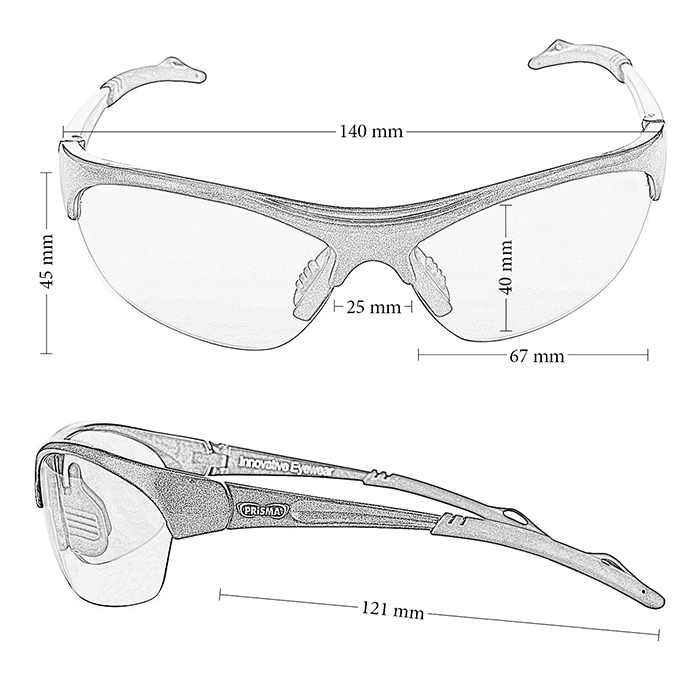 The risks of modern light
Due to their high proportion of red in the near infrared frequencies and their long wavelengths, our good old filament light bulbs were easy on our eyes to bear. On the other hand, new modern lighting sources based on mercury must be analyzed with a much more critical point of view. Light sources composed of mercury are found in the backlighting of flat LED screens (laptops and desktop computers), as well as in LED television screens, energy-saving lamps and fluorescent tubes. The greatest disturbance to the eye is caused by TFT or LED screens in front of which people spend several hours a day during their working life. In addition to the electromagnetic fields given off by screens, fluorescent lighting in the workplace contributes to increasing these negative effects
Mercury light in TFT screens Flat screens use mercury light as a backlight. This light is as in the case of fluorescent tubes, produced by the gas discharge. While the spectrum of natural white light is composed of a harmonious proportion of colors, that of fluorescent lamps such as TFT screens radiate mercury light and have a discontinuous spectrum. This leads to a high natural proportion of blue color (blue, indigo, violet) with high energy amplitudes. However, the red zone, which is supposed to promote blood circulation, has little energy (see graph).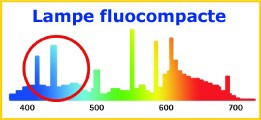 Spectrum of light with blue light filtered by LiTE95 lenses in front of an LED screen. We clearly observe the disappearance of the blue spectrum.
A danger to the retina?
A person working on a screen looks directly at the light source for a long time. Unfiltered and frequency-limited radiation disrupts normal vision and promotes pathologies of the macula (AMD-macular degeneration) also called "yellow spot" on the back wall of the eyeball where lutein is found. Lutein is present in high concentration in the macula, a small area of the retina responsible for vision and visual acuity. Lutein is known to filter out blue light (UV) that attacks the photoreceptors in the eye, before it enters the tissue of the retina and macula. The lens filters out ultraviolet rays but not blue light. This proportion of blue light can, in the long term, lead to irreversible damage such as that observed in age-related macular degeneration (AMD), an incurable "yellow spot" disease. Numerous scientific studies on macular degeneration have proven that blue light can be harmful to the eyes. Oxygen radicals damage the metabolism of eye cells under the influence of blue light.
Blue light impairs vision!
Blue light shatters more easily than red light. By focusing on the different levels of perception of the eye, it is observed that long-wavelength blue light produces chromatic aberrations and blurred vision. This is why pilots and athletes often wear yellow glasses because they filter the proportion of blue light, which increases visual acuity and sharpness of contrast. Often, AMD patients get prescriptions for glasses with yellow lenses, to protect their macula from destructive blue light.
Hormone balance disorders
Due to its high proportion of blue light and mercury, this light also affects the hormonal balance in a negative way, by reducing the production of melatonin and enhancing the production of cortisol, stress hormones and ACTH. Disorders of hormonal balance can lead to diseases caused by civilization such as cardiovascular diseases, metabolic disorders, as well as disorders of the immune system, cancer, diabetes etc
No chance for cell regeneration!
Near red light and near infrared we are able to activate cytochrome oxidases, enzymes important for the functioning of mitochondria, wound healing and promotes repair of tissue damage at the cellular level. If you spend most of the day in mercury-based light and then stare at computer screens for a long time, your eyes experience an overload of blue light. Since this light does not have the proportions of red and infrared light that are supposed to improve blood circulation, regeneration is often insufficient.
Brightness control offers no protection
Adjusting the brightness of a computer monitor changes the modulation and pulse width of the light source to a certain frequency. When the brightness of the screen is reduced, the pauses between the pulses thus become longer, but the power of the pulses is not reduced. Therefore, the light pulse always penetrates the tissues of the organism at such a deep level, even when the eye perceives a lower luminosity produced by a change in the frequency modulation of the screen. In addition, it increases the pulsation of signals that can disturb the biological balance even more than permanent signals. ents. TFT screens stop "flickering" only when they are illuminated at maximum intensity! This is why it is recommended to adjust the screens to the maximum and to wear special Prisma® computer protection goggles.
Protect your eyes!
In order to protect the eyes from mechanical and chemical danger, it is necessary and normal to wear protective glasses. But the danger caused by unprotected work on screens and under fluorescent lamps is often minimized or denied by conventional medicine, although the mechanisms mentioned above and which are harmful have already been demonstrated in cellular experiments. Who wants to take risks and wait for all this to be definitively confirmed and recognized in a few years? Does conventional medical research provide all the definitive evidence? Is all the research independent when we know the economic stakes for the industry? If you ever want to protect yourself, today we recommend you wear the Prisma ® protective eyewear as a precaution.
Specifications:
Only high quality materials according to standards are used for all Prisma® lenses. All PRiSMA® glasses are CE certified and meet the requirements of all international standards.
All frames and lenses are impact resistant, durable and treated with an anti-reflective coating. The disturbances produced by light reflections are reduced, resulting in better contrast.
The glasses provide good UV protection with "UV-400" protection. These glasses are ideal as sunglasses for medium or low light levels.
Types of glasses and both orange or yellow filters can be used depending on the type of lighting and alternated if necessary. The user can define very easily which of the two filters to use according to his needs.
The yellow "Classic Office lite" glasses can be used as sunglasses. In addition, the yellow "Classic Office lite" bezel due to its contrast enhances the quality of driving (only authorized in Europe, not in the USA and Australia). The orange color of the "Classic Office" glasses is not legal for use in road traffic. However, the ideal for day and night driving is to choose the models DRIVE NIGHT & DAY
Cleaning and care:
Warm water with a little washing-up liquid can be used. Dry with a soft cloth (like microfiber cloth) to avoid scratches. To avoid premature wear of lens treatment, do not use paper towels or other wood fiber products on lenses.
Warranty:
PRiSMA® lenses have a two-year warranty on material and workmanship. Regular use of glasses can produce very fine scratches on the lenses. This is normal wear and tear and does not warrant running the warranty.