PRiSMA® FRANKFURT LiTE Bluelightprotect – Blue light protection glasses 95%
Estimated delivery times 5 to 8 working days
Tax included
Delivery time 5 to 8 working days
New style of Prisma FRANKFURT LiTE glasses with ultra-resistant protective cover! Very elegant. 100% anti-reflective "AMBER LiTE" lenses for 95% eye protection against artificial blue light produced by flat screens (TV, PC, etc.), compact fluorescent lamps and LEDs.
100% secure payments
VAT
VAT applied 20%, exempt for deliveries outside the EEC.
PRISMA GLASSES FRANKFURT F-704 BLUELIGHTPROTECT
Healthy eyes to face modern times!
Prisma® F-704 blue light protection glasses, "AMBER LiTE" model
Modern flat screens (PC, TV, tablet, smartphone) emit light with a strong blue light component of short wavelengths.
Scientific studies have shown that this light can damage the retina of the eyes.
Have you noticed a burning sensation or red eyes after working for a long time in front of a computer screen?
Artificial light with a high blue light content strongly influences the hormonal balance and can cause sleep disorders (disruption of melatonin production). Watching television at night without blue light protection increases stress and hormonal balance, so many of us cannot rest even at night, and regeneration is impaired.
Prisma filtering glasses protect your eyes by filtering out the hazardous light component. Did you know ?
Not all blue light protection glasses available on the market are equivalent!
Prisma lenses are manufactured using the most modern filtration and measurement techniques.
The Prisma bluelightprotect glasses were developed by the German doctor and photobiologist Dr med. Alexander Wunsch.
It guarantees compliance with the highest scientific standards.
To ensure eye protection against blue light produced by:
TFT or LED computer flat screens.

Flat screen TVs.

Smartphone screens

Artificial lighting in the workplace.
There are two types of filters blue light protection: AMBER PRO or AMBER LITE
The AMBER PRO template is very high protection that filters almost all blue light for a person who spends a lot of time in front of a flat screen PC. However, color recognition is much more difficult.
AMBER LITE lenses are a high protection but a bit lower in filtration than PRO. On the other hand, they allow a more varied use in front of the TV and they are more comfortable to the eye at the beginning. They are used in front of tablets, smartphones and they have better recognition of colors and more. use of contrast.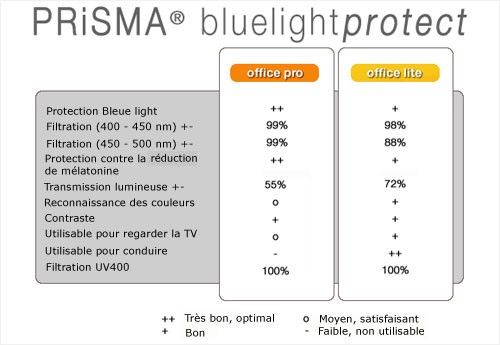 Dimensions:
Lens: width 5.0 cm - height 3.7 cm
Glasses: width 13.3 cm - height 4.1 cm
Frame: length 14.5 cm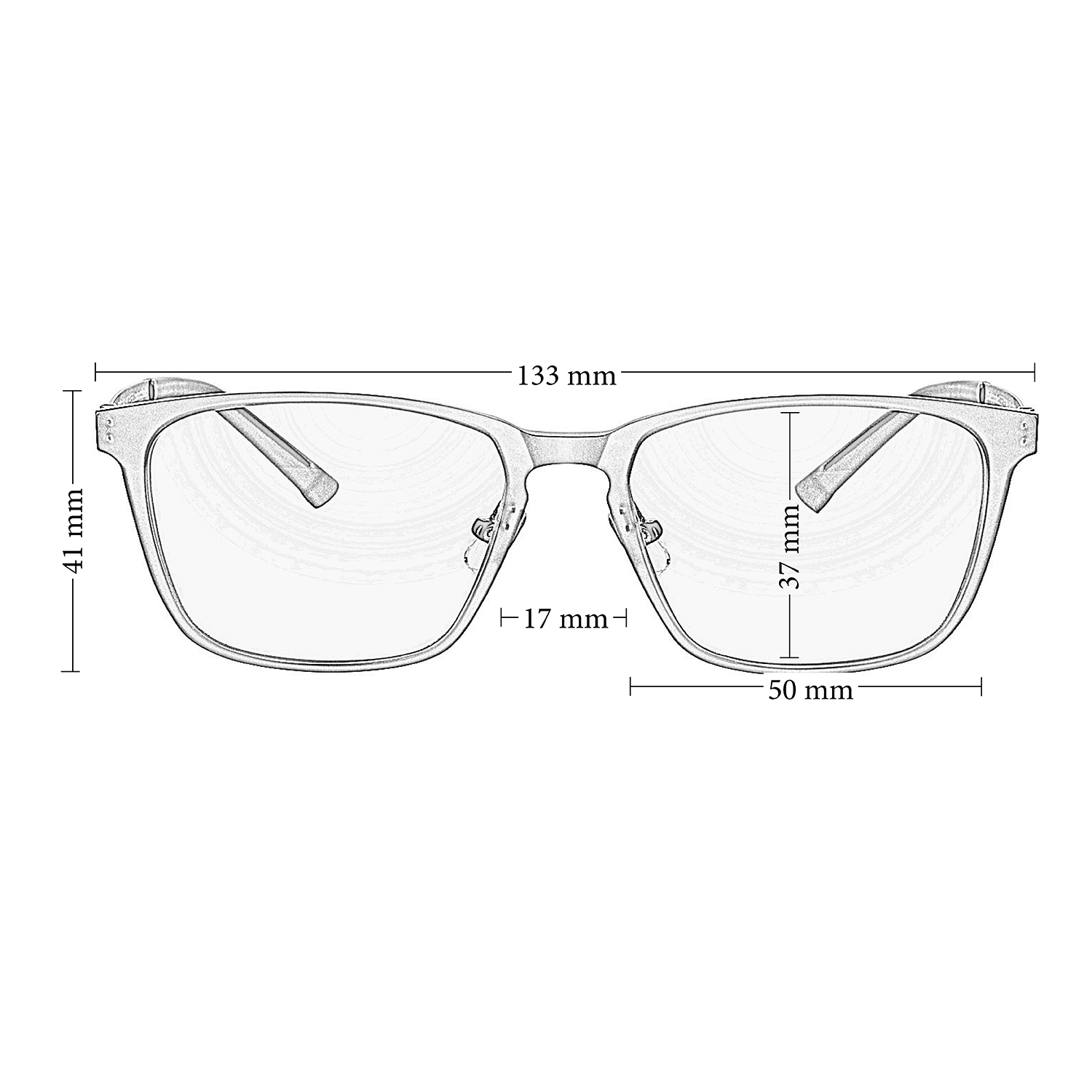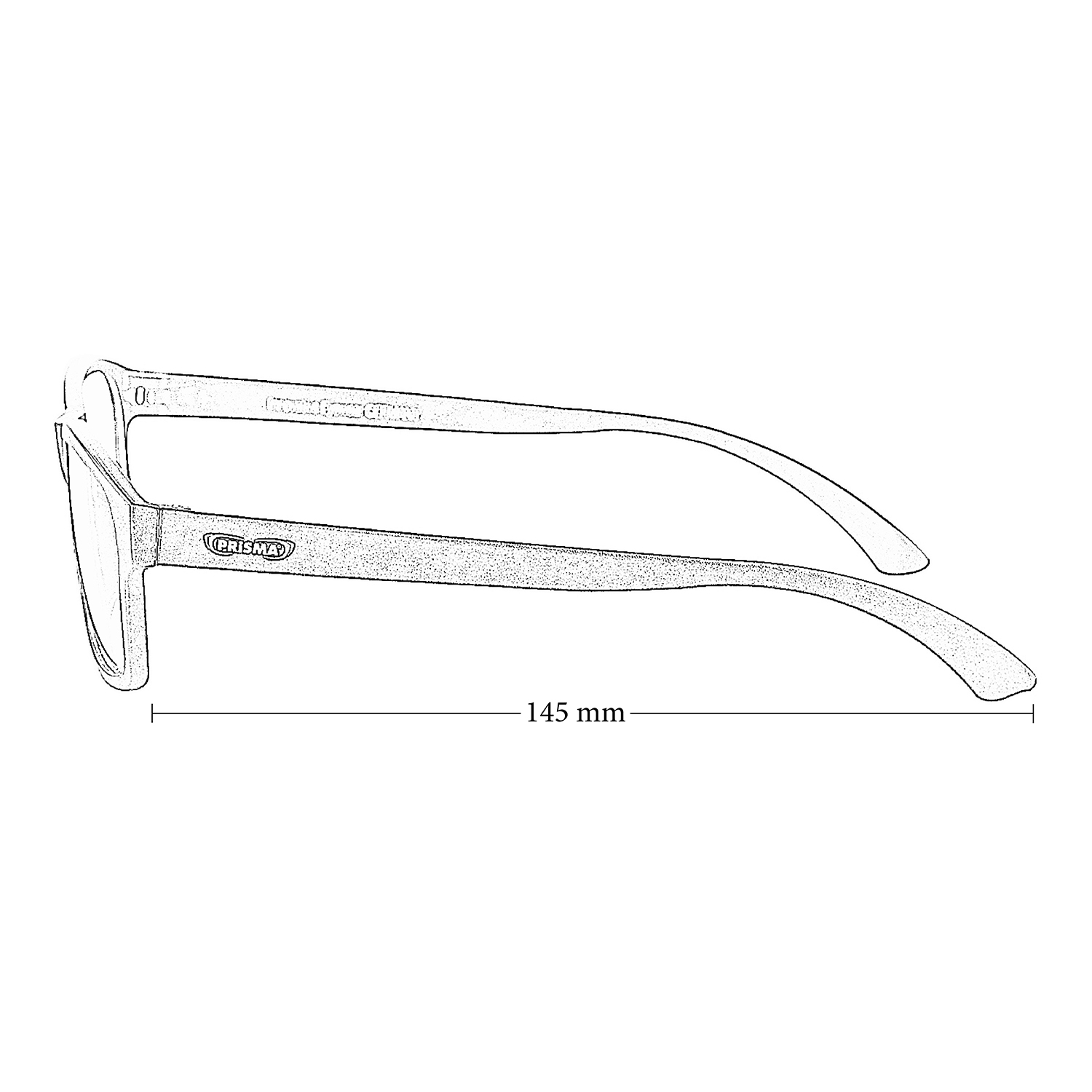 LiTE lens protection is by +- 95%
Specifications:
Prisma® Filter Technology
Excellent protection approx. 95% against blue light (from 400 to 500 nm)
Hormonal protection (melatonin)
Filter available: AMBER LiTE
Premium, microfiber protective cover
Anti-reflective lenses and 100% UV400 filter
Reduces glare and eye strain
Increases visual acuity
Light and sturdy
Set composition:
1 pair of PRISMA Bluelightprotect FRANKFURT "AMBER LiTE" glasses with lenses composed of an anti- reflections
A high quality and super resistant hard protective cover
A cleaning microfiber
Only high quality materials according to standards are used for all Prisma® lenses. All PRiSMA® glasses are CE certified and meet the requirements of all international standards.
All frames and lenses are impact resistant, durable and treated with an anti-reflective coating. The disturbances produced by light reflections are reduced, resulting in better contrast.
The glasses provide good UV protection with "UV-400" protection. These glasses are ideal as sunglasses for medium or low light levels.
Types of glasses and both filters Amber PRO or Amber LiTE can be used depending on the type of lighting and alternated if necessary. The user can define very easily which of the two filters to use according to his needs.
The color AMBER PRO is not permitted for use in road traffic. The ideal for day and night driving is to choose the models DRIVE NIGHT & DAY.
Cleaning and care:
A microfiber cloth is included for lens cleaning. Also, hot water with a little washing up liquid can be used. Dry with a soft cloth (like microfiber cloth) to avoid scratches. To avoid premature wear of lens treatment, do not use paper towels or other wood fiber products on lenses.
Warranty:PRiSMA® lenses have a two-year warranty on material and workmanship. Regular use of glasses can produce very fine scratches on the lenses. This is normal wear and tear and does not warrant running the warranty.
No customer reviews for the moment.